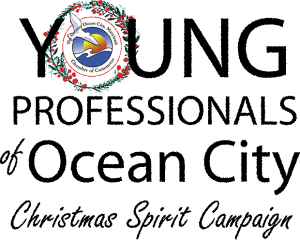 Each year during the holiday season the Young Professionals of Ocean City gear up for their annual Christmas Spirit Campaign (CSC)! Now in its 11th year, the CSC provides Christmas joy to underprivileged children in Worcester County. This signature event has grown exponentially, now serving more than 100 local children. The CSC committee works closely with the Worcester County Public School System, local churches and community organizations to identify children in our community who are in-need and at risk. Traditionally, our volunteers meet and shop with the children on the first Saturday in December at the Berlin Walmart. We have altered the format of our event, to ensure the safety of our committee, volunteers and children. Volunteers will now shop with a wish list created by the child, wrap the gifts and then deliver those gifts to the Chamber. Once at the Chamber families will be notified and can pick up their child's gifts in a drive by fashion on Saturday, December 10, 2022!
By making a charitable contribution/donation to the CSC you will create a memorable holiday for local children and their families. We hope that you will consider making a donation and sponsoring a child this Christmas. Together, we can bring joy to children in need this Holiday season. Your suggested donation of $100 will brighten the Christmas spirit of many children in Ocean City area!
Please consider making a donation and becoming a sponsor of the event.
With 4 Sponsorship Levels Available:
Toy Soldier Sponsorship = $100
Sponsoring 1 Child
Rudolph Sponsorship = $250
Sponsoring 2+ Children
Elf Sponsorship = $500
Sponsoring 5 Children
Santa Sponsorship = $1,000
Sponsoring 10 Children