The Greater Ocean City Chamber of Commerce invites you to join a group of businesses and professionals who are dedicated to working together to enhance and improve the accomplishment and performance of our community.
As the voice for business, we believe the effectiveness and success of the Chamber depends on our credibility and representation of the community's business interests. Without you, we are that much less representative, less credible and less effective. We hope that you will consider supporting The Greater Ocean City Chamber of Commerce in the upcoming year.
The mission of the Greater Ocean City, Maryland Chamber of Commerce is to enhance the economic growth of the region by providing leadership, inspiration, education and development opportunities to support and promote all segments of the tourism and business community.
We strive to assist our members through promotion, education and information important to the success of their businesses. We are committed to building the recognition of the Chamber and its membership by creating and assuring a level of respectability and responsibility associated with being affiliated with the Ocean City Chamber of Commerce. We continue to promote the public recognition of our members for their contributions to our community's successes.
We look forward to serving your needs and representing your interests. Thank you for considering membership in The Greater Ocean City Chamber of Commerce. Call on us!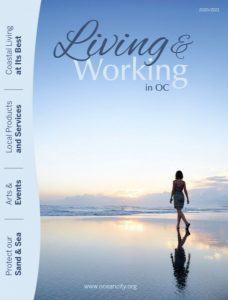 Living & Working … If you are new to the Ocean City area or are thinking of relocating to the area, The Greater Ocean City Guide to Business and Community Information contains information you may need. This directory includes information about local health care, community profiles, school information, places of worship, parks and transportation, general demographics and contact numbers for the local and state agencies and officials.
To receive your copy, please e-mail us at info@oceancity.org providing us with your name, address, and any specific interests such as location, type of housing, price range and when you are thinking of moving to the area.